Discover more from The Global Capitalist
A free newsletter about international developed, emerging, & frontier economies.
The Global Capitalist: Protest Edition
This week, I wanted to spend some time speaking about some of the protests that have shaped the globe this past decade.
Welcome to the Global Capitalist - A newsletter on emerging and frontier markets viewed through the lens of history and culture.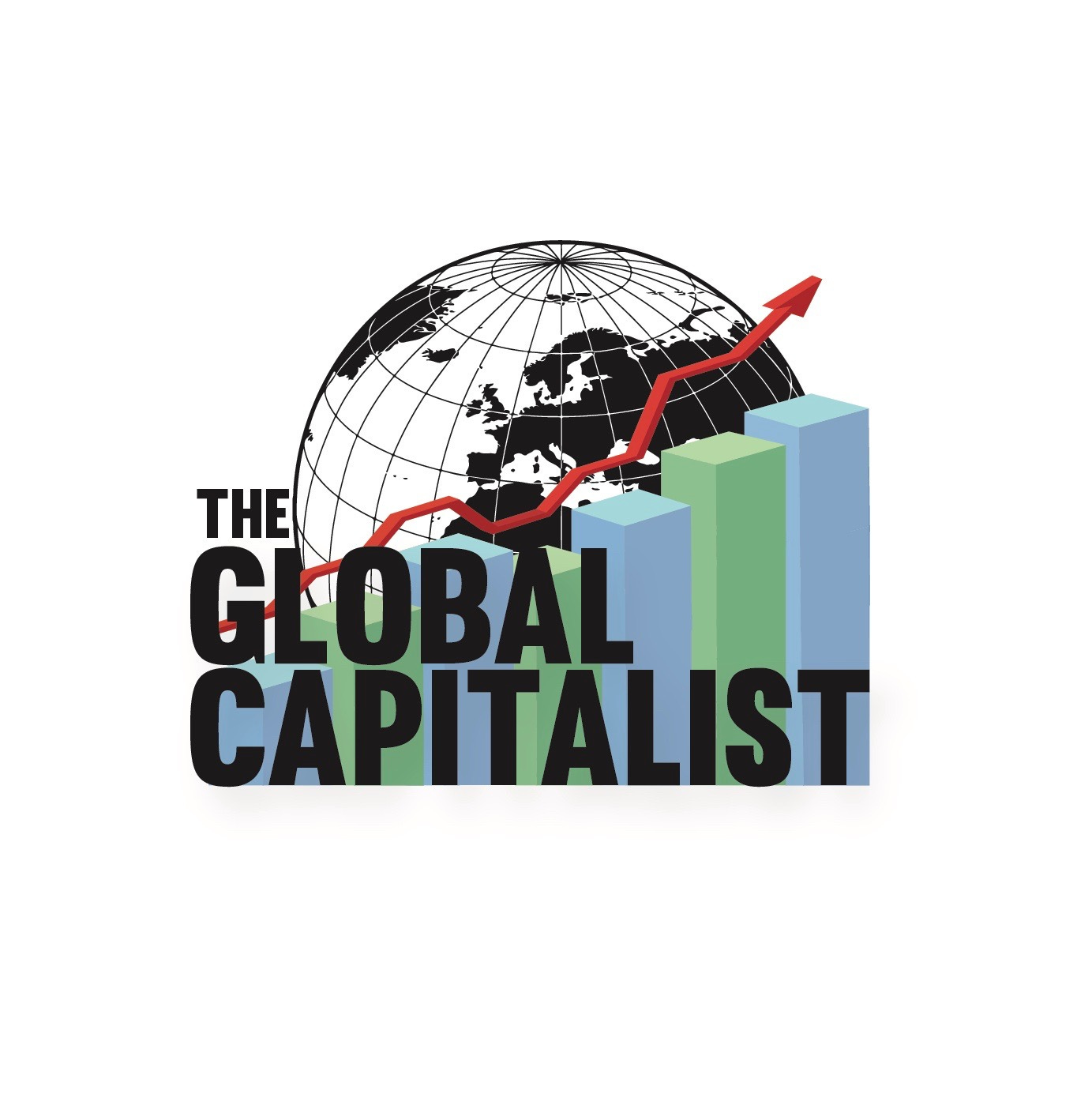 This week, we'll be taking another break from the country profiles. Instead, I wanted to write a little bit about some of the biggest protests that occurred this past decade across the globe.
FREE HATS: Details can be found here. — We are also on Etsy now!
A friendly reminder that you can find all of my old work here in case you ever miss a letter.
I welcome feedback, questions, or insights here.
Follow us on Twitter: @TGC_Research
Follow us on Instagram: @TGC_Research
Follow Tom on Twitter: @TominalYield
---
Last Week Briefing:
---
Unrest, not Arrests
Mass hysteria surrounding the George Floyd murder has made it impossible for any cognizant American to ignore our tumultuous environment. The discourse surrounding Floyd's death has amplified America's issue with police brutality and racial inequity. In addition, American citizens were justifiably shocked to see their cities burned, looted and robbed. Government mandated curfews strangled cities as they sought to return to economic viability. Businesses were forced to close early and board up their windows. For an American, all of this seems pretty dystopian, right?
The George Floyd protest in itself is extremely significant given the societal, economic and political ramifications of the events, but it is certainly not new for Americans to protest. Just this past decade, Americans turned out in droves to stand up for what they believe. The decade kicked off with the "Occupy" protests in 2010 and concluded with the Climate Strike in Autumn 2019. In my eyes, however, none of those events can compare to the size and scale of the George Floyd protest.
This week, I wanted to talk about some of the protests that have happened across the globe this past decade and how they shape, or explain, the landscape we're currently in.
---
"Revolution of our Times"
I've spent a great deal of time speaking about China and how they've molded the landscape of geopolitics, especially in developing economies. Similarly, I've written a good amount on the creeping influence of the Chinese, particularly in the Asian Pacific.
The Hong Kong Protests of 2019 epitomize the growing sphere of Chinese authority. As I mentioned last week, the nation-state of Hong Kong was transferred under Chinese jurisdiction in 1997 as restitution for the British-Chinese Opium Wars of the 19th century. As a result, the official title for Hong Kong is Hong Kong Special Administrative Region of the People's Republic of China. Given its Western roots, Hong Kong has historically been a beacon of democracy in an otherwise civically restrictive area.
The constitution of Hong Kong, also know as the Basic Law, states that Hong Kong be a colonial member of China, although they are to be endowed autonomy over their executive, legislative, and judicial branches. What's more, Hongkongers have traditionally celebrated the right to free speech, assembly and the right to due process. Those rights, however, have been put up for contention as the debate over Hong Kong's autonomy wages on.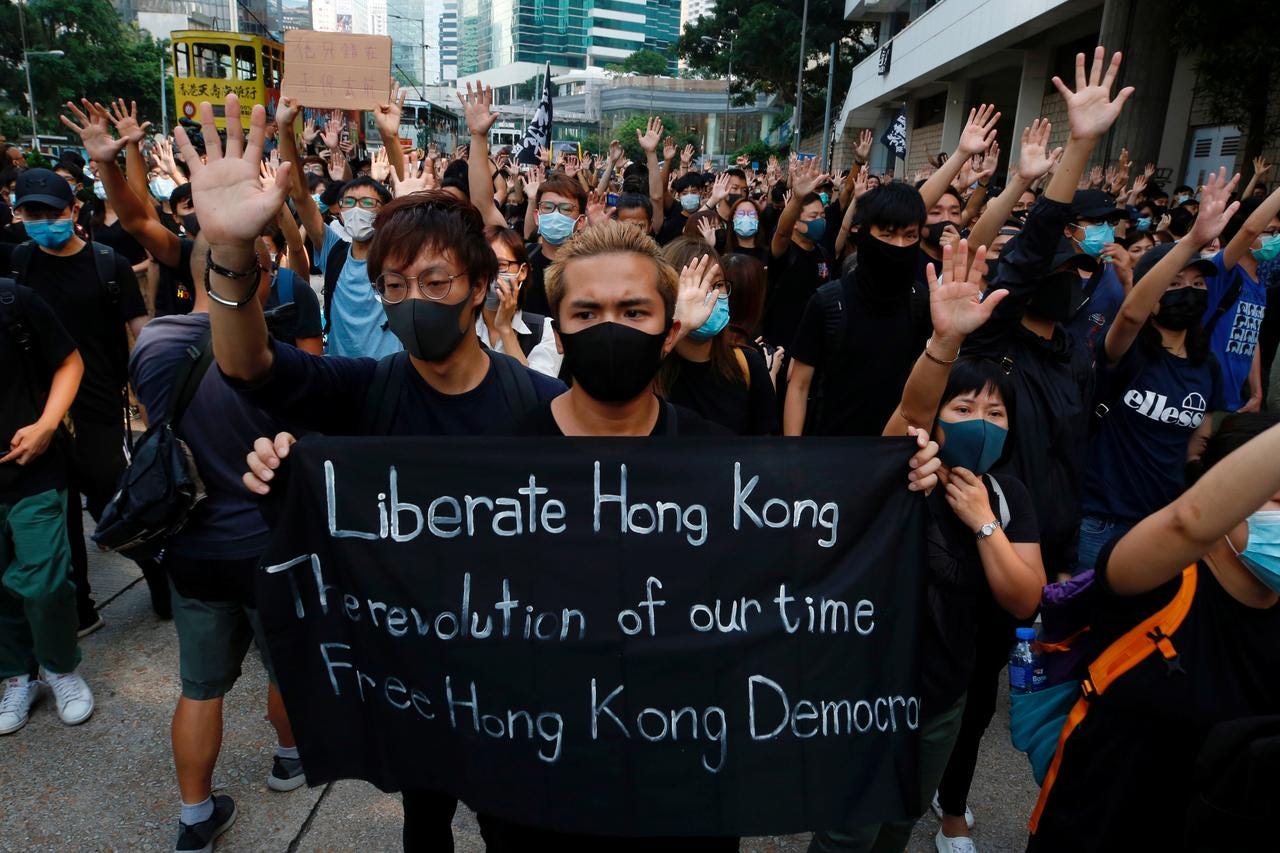 The protests began as a consequence of a controversial Chinese extradition law. In short, the bill stated that the Chinese Communist Party (CCP) could extradite Hong Kong citizens for crimes including treason, committed in Hong Kong. As you could guess, this was vehemently contentious policy given the poor track record of Chinese human rights. Historically speaking, China has banned sites such as Facebook, Google, and Twitter on top of generally suppressive free speech laws.
Interestingly enough, this was not the only first Pro-Democracy protest that's occurred in Hong Hong. 2014 brought upon what we know today as the Umbrella Protests in which thousands of Hong Kong students (frequently equipped with umbrellas) peacefully protested another piece of controversial Chinese legislation. This proposal was pushed by the National People's Congress of China and would ultimately allow the Chinese to exercise a significantly higher degree of influence over who can run for executive office in Hong Kong.
This whole ordeal is distinctly controversial because it underlines the pressing issue of doing business in or with China today. Between the Trump Trade War, the coronavirus pandemic, and a history of awful human rights offenses, what multinational corporation would want to plant their stake in China?
The Chinese have become worthy adversaries of the United States, especially in fields such as artificial intelligence, big data, and robotics. This is uniquely controversial, first because that technological prowess effectively grants government bodies a higher capacity to violate civil liberties. Secondly, there are substantial accusations that the Chinese have actually been stealing research and information from American universities. Most recently, the Chairman of Harvard University's chemistry department was charged with espionage when he failed to disclose a relationship he had with Chinese authorities.
All in all, I don't think we've seen the worst between the United States and China. The recovery from the economic onslaught of the coronavirus will be coupled with anti-Chinese demagoguery as we learn more about the origins of the virus and how it spread. On top of that, I'd expect a mass exodus of businesses and individuals as they seek a tamer ecosystem for their enterprise.
Cities & Skylines: Which city has more skyscrapers: New York City or Hong Kong?
---
¡Evade!
In 2019, the Chilean government had announced a 30 peso ($0.04 USD) increase in subway fares across the capital city of Santiago. Santiago's metro (as it's typically known as in Chile) is an essential part of Chile's economy, moving 2.5 million people per day. To protest the mounting cost of mass-transit, high school students demonstrated a "turnstile hopping" in which a hundred or so teenagers stormed the metro and evaded the fare. This protest continued to grow and at it's peak, over three-thousand high school students stormed the metro. Sebastian Pinera, the Chilean President, made the mistake of suggesting that those unhappy with the fare hike simply just get on an earlier (and cheaper) train. As you could probably guess, that comment did not bode well with his dismayed constituency.
The Chilean government attempted to further extinguish this unrest by deploying military and police personnel to monitor the metro stations. The presence of police and military would inevitably turn the protests violent as protesters and rioters spilled out onto the streets. Rioters setting fire to metro stations, buildings and cars forced President Pinera to declare a State of Emergency on October 18th, 2019. In fact, Chilean rioters even firebombed the headquarters of Enel Energy, the country's largest electricity provider. As of February 2020, 36 people have died in the violent protests.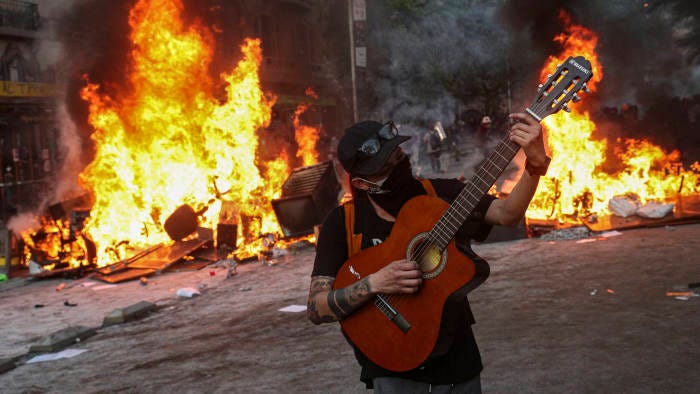 A Protestor in Santiago, Chile — @FT
It is argued that the basis behind the riots and protests stem not from a meager rate hike, but from the widening Chilean wealth gap. Chile was under Augusto Pinochet's military dictatorship up until 1990 when the newly reformed constitution allowed for the formation of political parties and referendum voting. However, in their transition to democracy, Chile hastily divested their government-owned assets and failed to achieve their intended goals. Similar to Russia's divestiture efforts, Chile's newly privatized businesses were not owned by the collective public, but by oligarchs who were in positions of unchecked power and influence in Pinochet's regime.
Long Story Short:
Chile's first attempt at a privatization overhaul occurred right after a severe economic recession in 1981. Citizens didn't trust, or simply were too afraid to invest in the Chilean marketplace, despite government assistance. They were also still a dictatorship during these divestitures, so the newly privatized assets went to the friends and partners of the dictator. Restriction of free press ensured that none of the shady practices or self-dealing from Chilean oligarchs were properly reported in the press. To this day, the Chilean economy operates under a highly-privatized, oligopoly with industries such as waterworks, transit, and utilities owned by private companies.
I will explore the anomalous Chilean economy in a future newsletter.
Chile carries one of the worst levels of wealth inequality among developing economies in the world. With a Gini Coefficient of 46, that number puts them between Venezuela and Paraguay, and at par with Mexico for how "unequal" the country's income distribution is. They are the most unequal country of all 36 O.E.C.D. countries. Chile's minimum wage is around 900 pesos or, about $1.15 per hour. In 2018, the median monthly wage was 400,000 pesos, or around $550 per month.
What is a Gini Coefficient?
A Gini Coefficient (or ratio) is often used to measure the level of income distribution in a nation. It is measured on a range of 0-to-1, or 0-to-100, with 0 indicating perfect income parity while 100 is considered extremely unequal.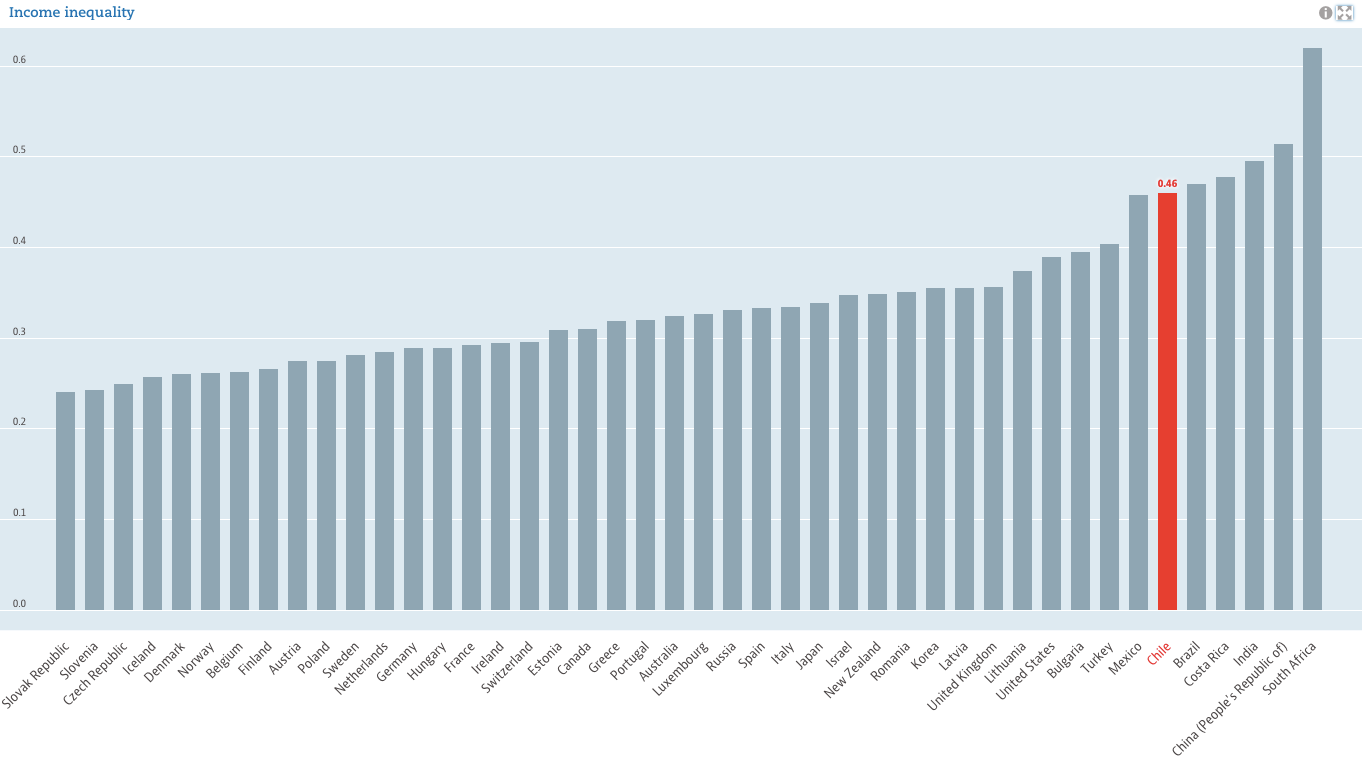 Gini Coefficients amongst OECD Member Countries - Chile is highlighted in red.
President Pinera has since apologized for his shortsightedness and apathy towards his poorer constituents. He has also made promises to increase the minimum wage, reinforce social safety nets, and even re-write the constitution. The coronavirus pandemic has put most of the protests on hold, although Pinera's approval has sank to single digit figures and the new constitution cannot be ratified until 2021. The bottom line is: the Chilean people aren't quite done yet.
Who Wants to be a Billionaire?: President Sebastian Pinera amassed a billion dollar fortune from what lucrative venture?
---
Uber Everywhere
While these protests are relatively insignificant in the grand scheme of the global economy, I wanted to talk about the Uber protests to recognize the footprint of globalization in underdeveloped nations.
Uber's business model is inherently disruptive. What I mean by that is Uber got to where they are today by deliberately breaking the law. Traditionally, cities such as New York, Las Vegas, and Chicago have very strict regulations on who can drive a taxi, making it difficult and costly for individuals to pursue the profession. Uber, however, instructed their drivers to ignore those regulations, download the app, and start driving. Theoretically, anyone with a license and a car could become a "For-Hire" driver. What's more, Uber would offer handsome monetary incentives to their drivers, while covering their legal bills in case they were caught operating outside the bounds of the law. Uber, however, would discover that all actions have consequences.
On top of heavy regulations, taxi drivers tend to be protected by collective bargaining agreements (CBAs) or unions. Unions will often broker deals with local governments to generate favorable terms and legislature for their places of business. In developing economies — particularly those associated with corrupt governments — the taxi industry tends to draw connections to organized crime. Mobsters in countries like Brazil, Argentina, and South Africa either monopolize the industry or are tasked with "managing" their pension funds. Brazilian mobsters would intentionally hail Ubers for the sole purpose of assaulting, (even murdering) unassuming Uber drivers. This cruel intimidation tactic adequately repelled any aspiring driver from signing up. In South Africa, drivers found their cars firebombed or vandalized. The bottom line is: It got really ugly.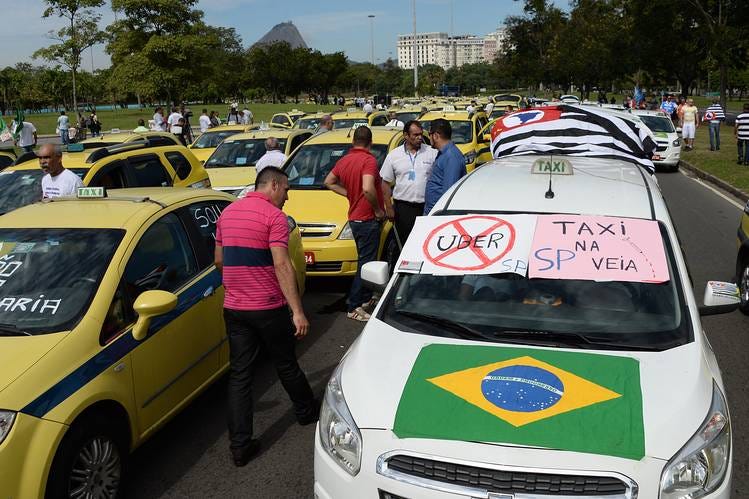 As a result of Uber's consequential ascent, protests for and against the company broke out across the globe. Vocal supporters of Uber (mostly drivers) argued the backlash against Uber was inhibiting the function and growth of a free market. After all, consumers clearly preferred a ride-sharing vehicle opposed to a standard taxi. Critics of Uber had a list of grievances in which they sought to air. Existing Uber drivers fought for higher wages. Active taxi drivers complained that Uber was flooding the market with supply, driving down fares at the expense of lower-middle class taxi drivers. On top of that, many licensed taxi drivers had already committed years of training, expenses, and time towards becoming a "for-hire" driver.
The battle between the ride-sharing companies and the incumbent taxi companies is emblematic of technology's disruptive nature, particularly in the gig-economy. Last year, California passed Assembly Bill 5 (AB5) which required that businesses reexamine who classifies as a "gig-worker". This threatens to disrupt the business models of companies in the gig-economy such as Uber, Lyft, DoorDash, GrubHub, and Instacart.
Pay Me in Equity: Which famous artist specifically requested that Uber pay her in company stock rather than a $6M performance fee as compensation for their appearance at a company event?
---
Viva la revolución!
Before we dive into the Venezuelan protests of 2019, it's only fair to touch upon the unpopular ascent of the Maduro regime and his failed socialist experiment.
Venezuela was, at one point, the wealthiest country in South America. A barrel of oil trading above $100 while the nation sat comfortably on the world's largest oil reserves. The Bolivar traded at a premium as investors were attracted to the country's vast natural resources.
What happened?
In the 1980's, the price of oil capitulated below $80 amid the oil glut of the 1980's. Recent agreements between the oil-importing West and the oil-producing East had flooded the petroleum market with supply. Venezuela found themselves facing a peculiar budget crunch. After all, what happened to the profits from when oil was trading over $100/bbl?
The Venezuelan government had forgone any divestment from their massive state-owned oil operation and failed to reallocate revenues into other government programs. Instead, government officials discretely lined their own pockets with oil money, leaving their citizens exposed to the economic onslaught. The failures of Venezuela's "capitalist" system lead to the ascent of political outsider and dictator, Hugo Chavez. Chavez would win the 1998 presidential election and would rule up until his death in 2013. Nicolas Maduro would ultimately be his successor.
Likewise, I will explore Venezuela in further detail in a future newsletter.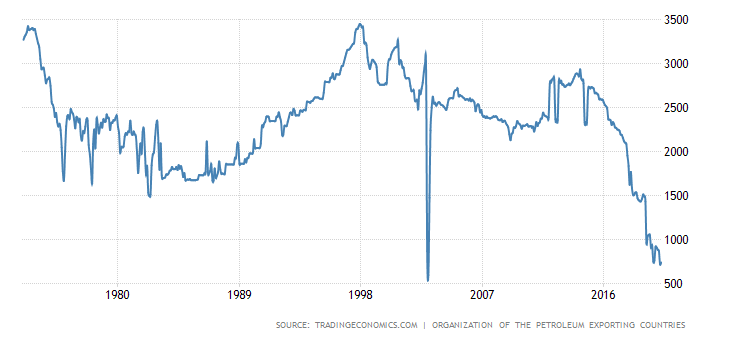 Venezuelan Oil Production, in thousands, since 1973
2018 saw the reelection of Maduro in what is known as a "show election" given the country's dismal level of voter participation. The election was especially flawed, given that Maduro had unilaterally moved election date from December 2018 to May 2018. His opposition, Juan Guaido, recognized the malpractice of his opponent and declared Maduro's victory to be illegitimate. He would subsequently assume the role of interim President. This ignited a call to allegiance, as major organizations, sovereign countries, and individuals sided with either the Maduro regime or Guaido's revolution.
Meanwhile, the country saw the value of the Bolivar fall 77% as hyperinflation strangled the economy. Any budgetary shortfalls (even dating back throughout Chavez' regime) were replenished with newly printed money. The currency lost all utility as Venezuelan citizens used Bolivars as wallpaper or toilet paper. Shelves were left empty as the government established price ceilings on consumer goods. Businesses legally could not sell their goods for a profit. Today, it is estimated that 16% of the Venezuelan population has fled the country.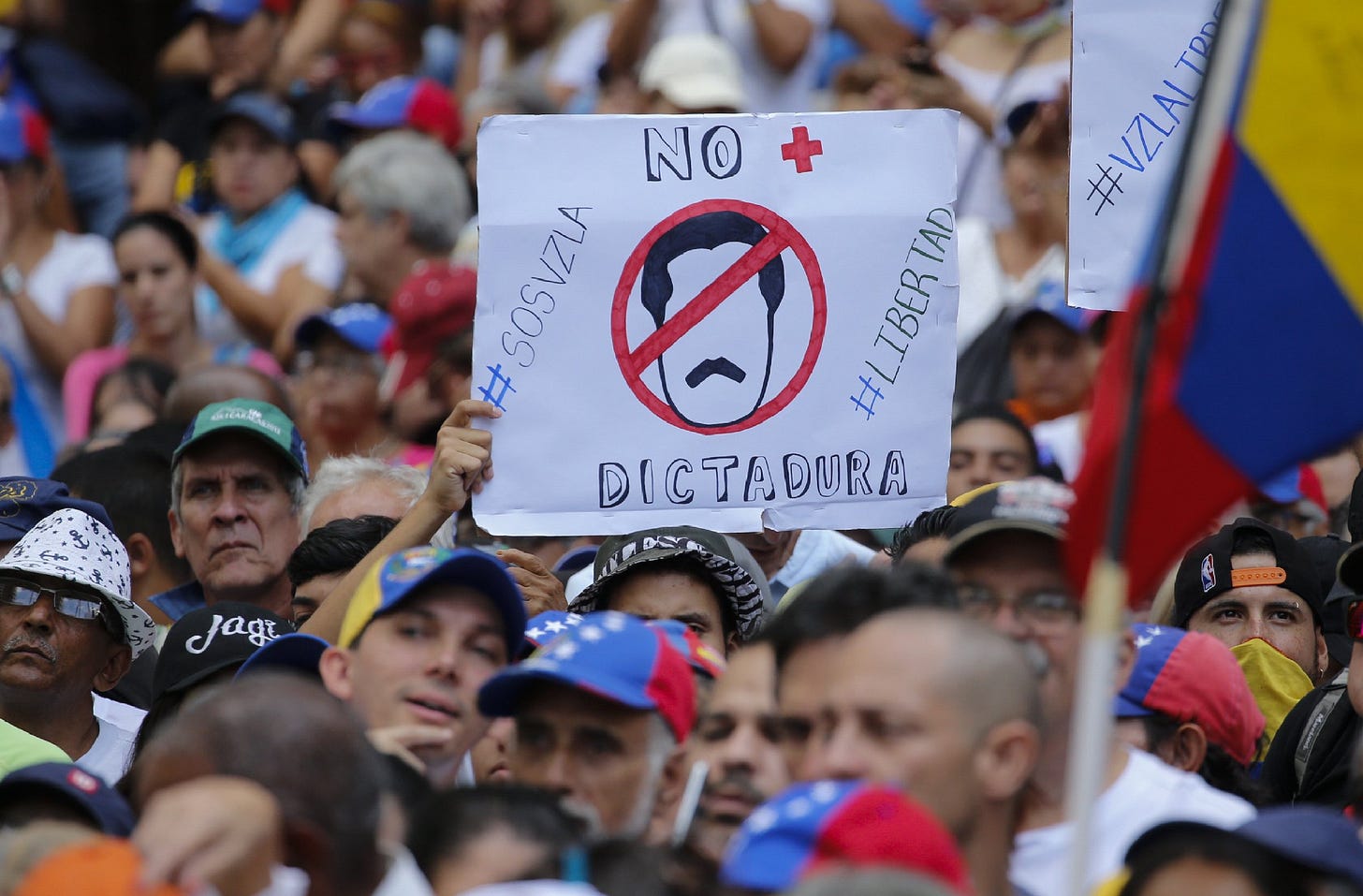 The Venezuelan protests of 2019 are significant because it wouldn't necessarily be untrue to refer to it as the Venezuelan Civil War. Violent battles broke out in the streets of Caracas, the nation's largest city and capital, over their patronage to Maduro or Guaido. Despite support from members of the E.U. and U.S., Guaido's movement has lost traction. He tried and failed to stage a coup d'etat in April of 2019 which reduced his stardom among Venezuelan nationals. What's more, the Venezuelan economy has become a political football in a sense, as critics of socialism are quick to call out the perils of government intervention in the economy. Maduro still holds office to this day, although the mounting pressure on the Venezuelan economy could push him out before he knows it.
Merry & Bright: Venezuelans are known to partake in which unconventional activity on Christmas morning?
---
The (Second?) Arab Spring
Special thanks to my friend and supporter of TGC — Alec D. from Missouri — for his help with this section.
In this section, I'd like to revisit a topic from a previous newsletters featuring countries across the Middle East and North Africa (MENA). This string of protests, riots, and unrest can be collectively referred to as the Arab Spring. The Arab Spring began in Tunisia in 2010, when a man walked in front of a government building and lit himself on fire. Protests multiplied across the reg as citizens rose up against tyranny. Since I've already touched upon how the Arab Spring has affected certain emerging markets such as Egypt, Tunisia, and Jordan; I wanted to pivot to a couple of other countries that I have yet to cover. Protests are once again gripping these nations as the unmet demands of a decade ago are beginning to surface once again.
Algeria
Arab Spring:
Interestingly enough, Algeria is the only Arab republic to escape "untouched" from the Arab Spring in 2011. The President of Algeria, Abdelaziz Bouteflika, has been a de facto dictator since 1999 and one of few dictators who has remained in power post-fallout from the Arab Spring. His lengthy reign can be attributed towards his affinity to earmark government spending for "social welfare", or more bluntly, bribes. Consider his government's actions during 2011: Rather than try to mitigate the grievances of the Algerian people, the oil-wealthy Algerian government could simply buy their allegiance. Instead of joining the protests, Algerians could reap the benefits of generous housing grants, wage increases, and bribes. Any dissonance in the Algerian populace could be easily extinguished with more government "helicopter money". Bouteflika would suffer a stroke in 2013 and has remained mostly hidden from the public eye since. He would hold office until 2019.
Today:
Bouteflika would announce his candidacy for a fifth consecutive term in February of 2019, unilaterally extending his reign another 4 years. At this point, however, the Algerian citizens have had enough. Bouteflika's inevitable reelection coupled with a stagnant economy would beget a series of protests known as the Hirak Movement. The Hirak Movement is committed to a peaceful protest of Bouteflika's re-election and a socio-economic overhaul of Algeria. The protests began in February of last year and successfully deterred Bouteflika from running for re-election. Instead, Abdelmadjid Tebboune, a former Prime Minister, has assumed the role as President. Tebboune has declared his support for protesters, promising to implement all of their demands to avoid "total collapse" of the country.
The protestors are insistent on distancing themselves from the themes of the Arab Spring a decade earlier. Peaceful protests have dominated the sentiment of the Hirak Movement as many Algerian protestors are concerned that Islamic Radicalists will attempt to hijack their agenda. This would certainly disrupt the progress they've made with the newly elected President.
Lebanon
Arab Spring:
The Lebanese Arab Spring, or Intifada of Dignity, was a series of protests that called for the ending of Lebanon's sectarian government. Since the 1920's, the Lebanese government has operated within the politics of confessionalism. Confessionalism grants a disproportionate amount of power in government towards the higher-ups in religion. Hezbollah, a radical Islamic militant group, is considered the strongest of political factions in Lebanon, controlling most of Lebanon's Shiite population. Hezbollah is a firm believer that the West has corrupted the Middle East, and it is their duty as Muslims to "cleanse" the region of Western influence. This sentiment has drawn angst from the West and support from neighboring Islamic countries, such as the Islamic Republic of Iran.
The sectarian government had lost the confidence of their people as corruption, crime and self-dealing has plagued the country at the expense of the poor. In June of 2011, Lebanese protestors succeeded in transforming Lebanon's government, although that government would dissolve only two years later following the resignation of Prime Minister Najib Mikati. There is still a ways to go for the Lebanese government.
Today:
Lebanon is once again in the midst of an economic onslaught. Unemployment spiked over 45% in 2018 and the minimum wage has dropped 40%. Nearly half a million Lebanese people have fled the country to escape the war-torn nation. A new string of taxes levied on gasoline, tobacco, and even WhatsApp calls have driven disenfranchised Lebanese nationals back into the streets to demand change. Like Chile, the taxes were simply the "straw that broke the camel's back". The nation had been suffering from awful economic conditions without consideration for the welfare of their citizens. Protests erupted in October 2019 that demanded the government disband their sectarian government and create a fairer society for their citizens. These protests are continuing this day with near-unanimous support.
---
Trivia Answers
Cities & Skylines: Hong Kong has nearly 50% more skyscrapers than New York City does. Hong Kong is home to the most skyscrapers in the World.
Who Wants to Be a Billionaire?: Sebastian Pinera accrued his massive fortune from issuing credit cards in Chile back in the 1970's. He is worth an estimated $2.8B by Forbes.
Pay Me in Equity: Beyonce was the artist who specifically requested she be compensated in equity, rather than cash. That stake is worth an estimated $8M today.
Merry & Bright: Venezuelans are known to roller skate to church on Christmas morning.