Discover more from The Global Capitalist
A free newsletter about international developed, emerging, & frontier economies.
Namaste!
The world's most densely populated area struggles with its social distancing efforts.
Three-peat
Welcome back! Before I continue I want to thank you all for the generous feedback so far! I really appreciate all of your help in spreading the word and helping me get this newsletter off and running. That said, if you know someone who can't seem to locate this email after they've subscribed, please ask them to check their 'Spam', 'Junk' or 'Updates' folder.
As I mentioned last week, I want to reward you all for helping me in sharing my newsletter and helping me launch. I am in the final stages of finishing a "referrals competition" in which readers would compete amongst one another to win prizes. Details to follow next week!
This week we will be discussing the Himalayan region. This region consists of Pakistan, India, Bangladesh, Bhutan*, and Nepal*.
YTD EM Performance as of close 4/9/20 (Data from Koyfin Markets):
Emerging Market Agg. (EEM): -21.22%
MSCI Frontier 100 Agg. (FM): -29.88%
South Korea (EWY): -21.31%
India (EPI): -31.10%
Russia (RSX): -24.79%
China (FXI): -13.20%
Mexico (EWW): -37.24%
Brazil (EWZ): -45.94%
Feedback, questions, concerns —> the.global.capitalist.news@gmail.com.
Follow us on Twitter: @The_GC_News
Follow Tom on Twitter: @TominalYield
* -
We will not be covering these countries.
---
Last Week Briefing:
OPEC+ has agreed on an oil deal. Mexico, who initially protested their proposed rate cute, was granted a concession.

Trump Administration threatens to pull funding from WHO following its mishandling of COVID-19.

South Korea is playing baseball again!
---
I have a confession to make…
I haven't been completely honest with you all. By that I mean most of the countries I've featured in the past two issues aren't exactly classified as emerging markets. As a matter of fact, most of the countries featured have actually been categorized as frontier markets. Frontier markets are a notch below emerging markets as they represent countries that offer the same convex growth prospects that emerging economies do, although they may not be large enough or liquid enough for foreign investment to proliferate. That said, depending on who you ask, a country may qualify as an emerging market or a frontier market given certain economic data. For example, the MSCI classifies Egypt as an emerging market although FTSE Russell has it listed as a secondary emerging economy. Each year, these major indices will publish economic data and trends which indicate which countries will be included in the index. In fact, just last year Kuwait was upgraded to emerging market status, per MSCI.
At the forefront of emerging economies is what is acronymically known as the EAGLE emerging markets, a term coined by BBVA in 2002. EAGLE economies, or "emerging and growth-leading economies", are classified as countries whose incremental GDP was to surpass the average incremental GDP of G7 economies in the 2010s. The EAGLE economies, consisting of China, Indonesia, Turkey, Brazil, Mexico, Russia, and India, is one of many acronyms used to group emerging and frontier markets. For example, the BRICS economies is another term coined by British economist Jim O'Neill to categorize the five largest emerging markets per nominal GDP. BRICS stands for Brazil, Russia, India, China, and South Africa. Given the fact that there are so many different financial institutions with different methods of measuring growth and risk, there is theoretically an infinite amount of acronyms that can be created to group sets of countries — I promise I will not bore you with that.
Alphabet Soup: MINT and CIVETS are two other acronyms that describe a group of emerging or frontier economies. Can you list them all? Note: Some countries may overlap. Answer will be at the bottom.
---
Good Fences Make Good Neighbors
In Pakistan's case, their seemingly perpetual conflict with India is one of the many perils which impede the growth of the world's fifth most populous country. Formerly associated with the British Raj, Pakistan was formed following the Partition of India in 1947 when the British Crown split the subcontinent between two newly created sovereign states: the Dominion of India and the Dominion of Pakistan. In doing so, the British crown attempted to mitigate the division of "Hindu India" versus "Islamic India" as the population and communities were split culturally and geographically across religious lines. A group of Islamic leaders then known as the Muslim League pushed the philosophy behind the two-nation theory. The theory, which stated that Muslims and Hindus were separate nations and Muslims deserved their own Islamic-majority nation, was the catalyst behind the formation of modern-day Pakistan. Muhammad Ali Jinnah, the beloved founder of Pakistan, insisted his vision for the country was driven by a desire for a secular government based upon Islamic principles. Nonetheless, their Islamic roots are evident as the 1973 Constitution derived the nation's legal foundations from that of the Quran and Sunnah. With a staggering 97% Muslim population, the Islamic Republic of Pakistan checks in as the second largest Muslim country in the world, just behind Indonesia.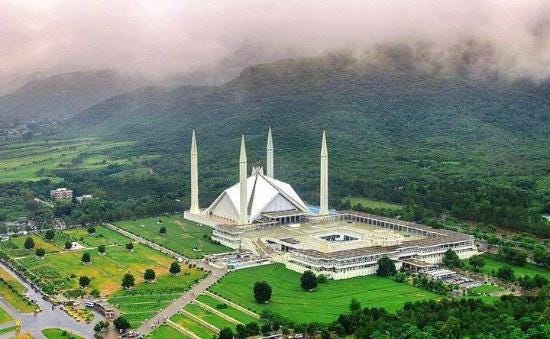 Faisal Mosque - Islamabad, Pakistan
Pakistan returned to MSCI's Emerging Markets Index in 2017 after being removed in 2008 following the global financial crisis. That said, Pakistan's status hangs in jeopardy as the country suffers from an egregiously sporadic business environment and poor infrastructure. As a matter of fact, over 50 million people in Pakistan face power shortages which disrupt basic societal and commercial functions. The country's economy is heavily buoyed by its manufacturing prowess as 60%, or nearly $15 billion of their exports are from the textiles industry. Pakistan's economy was welcomed back into the emerging markets landscape due to its progress in tackling poverty and its transition towards becoming a middle income nation. Between 2005 and 2015, multidimensional poverty fell 16.4% to below 40% and in 2014, over 50% of Pakistan's population was categorized as "middle class". Most of this growth has been supported by (and stop me if you've heard this one before…) the Pakistani government's continued effort towards divesting state-owned corporations and liberalizing commerce. Recently, the Minister of Privatization released the Pakistani government's goal of divesting another 33 SOEs. This progress has not gone unnoticed as China, Pakistan's largest foreign investor, has pledged the equivalent of over $60 billion in foreign direct investment (FDI) for Pakistani infrastructure and energy projects.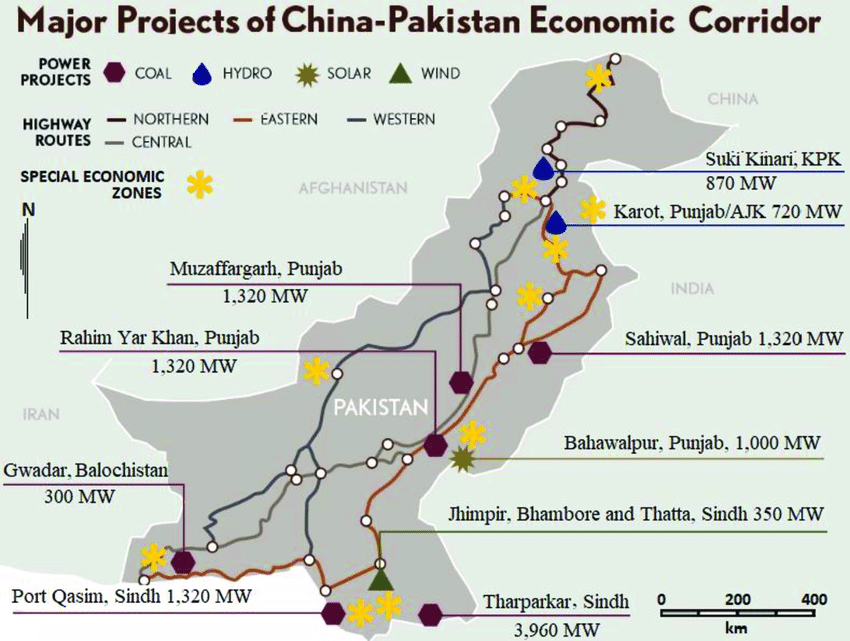 China - Pakistan Economic Corridor
All of that said, Pakistan's densely impoverished populous is not immune from the toil of COVID-19. MSCI will be meeting (remotely, I'd assume) this upcoming May for their semiannual evaluation of their emerging markets portfolio. Pakistani investors, private enterprises, and government agencies alike are concerned with the prospect of the country being downgraded once again to frontier market status as MSCI would likely sell Pakistani securities out of the index. Generally speaking, adding or removing a security from a major index requires a large liquidation or purchase of said security. This can create some volatile price movements. For example, in 2017 when Pakistan was upgraded to emerging markets status, the PSE 100, the country's largest benchmark index, surged to an all time high. In the event a downgrade occurs, investors should brace for market turbulence ahead.
No Meat On Fridays: Per Sharia Law, Muslims are prohibited in partaking in what kind of popular banking activity? Answer at the bottom.
---
The "Iowa of South Asia"
If Bangladesh were a U.S. State, it would be the 25th largest state by square mileage in the country — just larger than Iowa. Now, imagine stuffing over half of the U.S. population (Bangladesh had a population of 164.7 million in 2017) into the state of Iowa and you get an idea of what the most densely populated nation in the world is like. Bangladesh, the eighth largest country in the world by population but only the ninety-second largest nation by square milage, has become a hotbed for tech startups and blistering GDP growth. Formerly known as East Pakistan, Bangladesh became an independent nation in 1971 following the events of the Bangladeshi Genocide and Liberation War. The Partition of India ended up creating two new factions of Pakistan separated by over 1,000 miles (pictured below). As a result, the ruling class migrated west towards modern-day Pakistan while the native Bengali people were left neglected in the East. On top of that, the Pakistani ruling class were unhappy with the cultural differences that the Bengali people exhibited as they believed the Bengali interpretation of Islam wasn't pure enough and that their people were "a downtrodden race".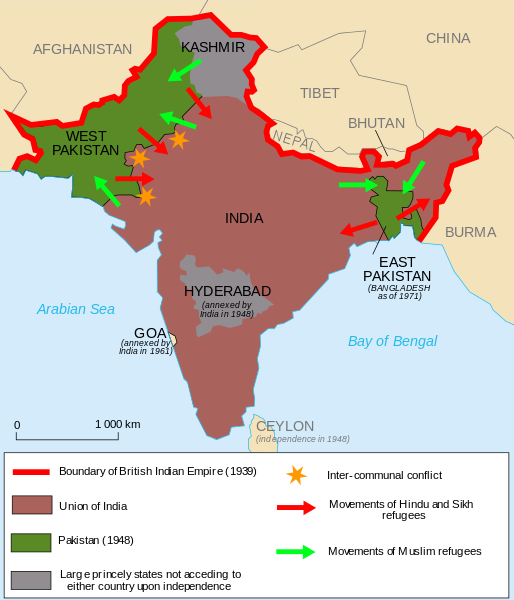 Their hatred morphed into fear in December 1970 as the Awami League, an Eastern Pakistani Liberation party, won the national election. It is reported that in February of 1971, Western Pakistani junta, or military leaders, congregated to devise a plan to annul the victory of the Awami Party and exterminate their supporters. General Yahya Khan, a Western Pakistani military leader and ally of the U.S., was rumored to have said, "Kill three million of them, and the rest will eat out of our hands." The following month, the Western Pakistani government ordered the execution of Operation Searchlight, a military operation which sought to occupy all of the major cities in East Pakistan and extinguish opposition groups. The Bangladesh Liberation War would commence that same month and would not conclude until December of the same year when West Pakistan surrendered. Exact numbers are still unclear, although scholars estimate that upwards of three-million people were killed and nearly four-hundred thousand Bengali women were systematically raped and enslaved. Pakistan to this day has yet to acknowledge this atrocity or issue a formal apology to Bangladesh. Instead, Pakistan has apologized for their soldiers' "excesses" and issued an investigative report claiming there were only 26,000 deaths in the Liberation War.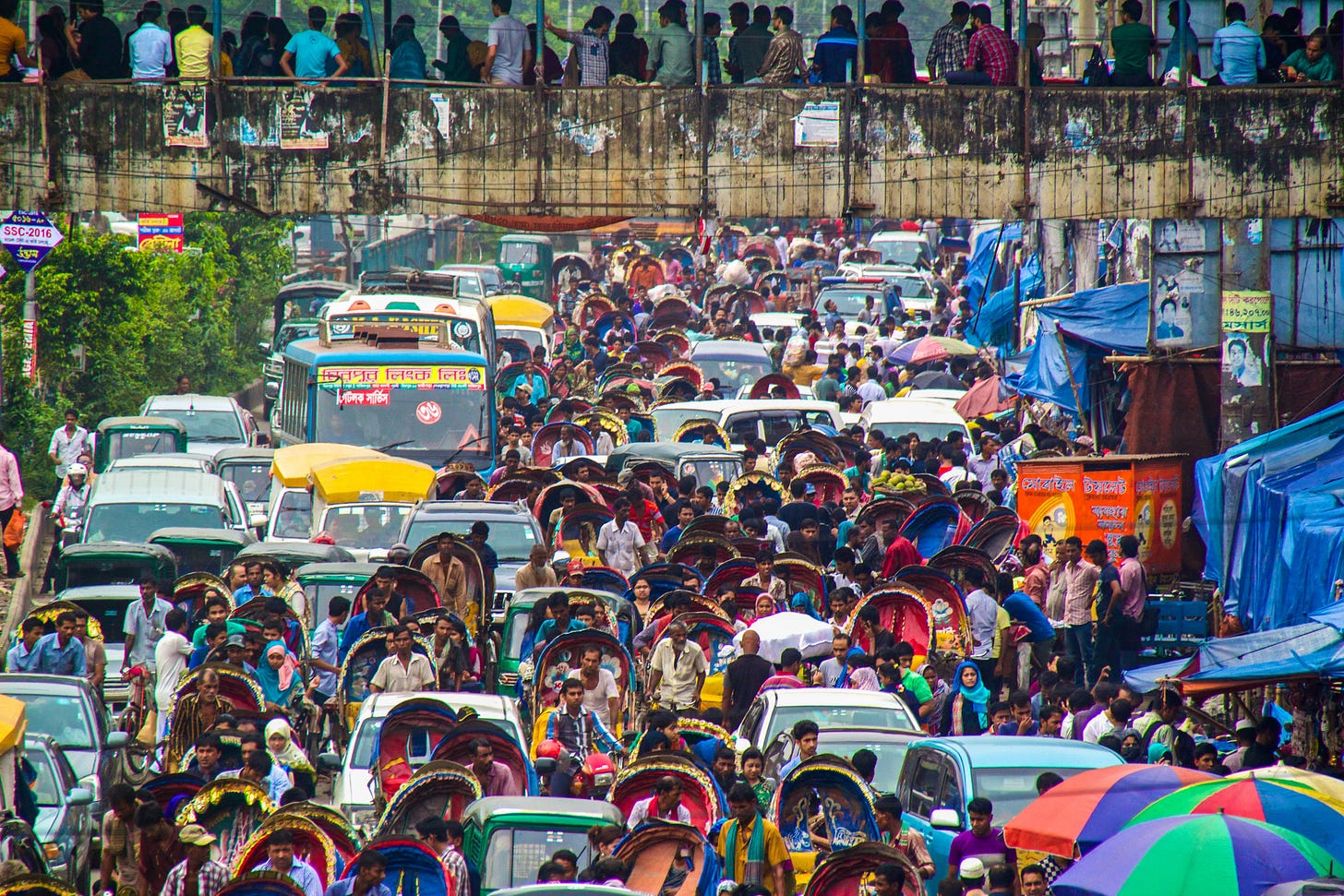 Congestion in the capital city of Dhaka
In 2020, the story of Bangladesh sings a much more upbeat tone. Following its independence in 1971, the country briefly experimented with a socialist economy before realizing their public sector could not accommodate their burgeoning population growth. By 1989, Bangladesh had privatized 60% of their state-owned enterprises (SOEs). The country prides itself on being a beacon of progressive thought amongst a sea of religiously-conservative cultures. For instance, they have elected two female prime ministers since 1991, an unprecedented and unexpected feat from a Muslim country. What's more, Bangladesh holds the title for smallest gender-earnings gap in the world and they are the only country where women make more in hourly wages than their male counterparts. Bangladesh has seen remarkable GDP growth since the beginning of the century, increasing every year since 2014 and surpassing 8% in 2019. On top of that, Bangladesh has one of the youngest populations in the world with over 75% of the population under 40 years-old. This is not to say that the Bangladeshi economy is teflon. In fact, Bangladesh still struggles heavily with underemployment, overpopulation, and high levels of income inequality. Looking into the future, Bangladesh seeks to diversify its economy beyond the agriculture sector as it comprises 14% of GDP but employs over 40% of their population. Instead, look for Bangladesh to continue their push towards bolstering their services sector which comprises 56.4% of GDP. Emerging markets investors will be keeping a keen eye on Bangladesh's technology sector especially, as the new digital economy hopes to propel Bangladesh to the forefront of budding economies.
Red Tape: Dhaka, the capital of Bangladesh, is often referred to as the "_____ Capital of the World". In 2019, the city of Dhaka placed a very controversial ban on the same item, what is it?
---
Do You Accept
₹500's?
The term "shadow economy" refers to the activities that occur within an economy that aren't reported. It most commonly used in context with narcotics or other illegal trades, although cash-only businesses and other unrecorded business activities also fall under the term "shadow economy."
India, soon-to-be the largest country in the world, spans approximately 1.269 million square miles. For context, the United States is roughly three times the size of India by square milage yet has nearly a billion fewer people. With a poverty rate below 5%, the Republic of India boasts the title of fastest growing trillion dollar economy and the fifth largest economy in the world by nominal GDP. Also the largest democracy in the world, India's governing structure juxtaposes that of their Chinese neighbors. Like China, India's enormous market is an attractive feature for both investors, governments, and corporations alike. Since the beginning of the century, nearly half a trillion dollars of FDI have flowed into the Indian economy, specifically into information technology and data services. American companies, such as Amazon, MasterCard, and VMWare have pledged ten-figure sums into the Indian economy, hoping to capture valuable market share. Bezos himself declared the 21st century to be the "Indian Century" at an Amazon India event in New Delhi.
Amazon India Employees
India's roaring economic growth has been propelled by its robust technology sector and formidable startup ecosystem. An estimated 80,000 Indian startups raised an aggregated $10 billion in 2019. This boom in technology has been driven by foreign venture capital juggernauts such as SoftBank and Sequoia Capital. Not to mention, India's Start Up India initiative, which launched in 2015, has paved the way for academic institutions to support India's entrepreneurs. India's private startup incubators have also been integral towards this boom as over 250 incubators are domiciled in the country. Some of India's hottest tech startups include:
Flipkart: The online retail giant of which rivals Amazon raised $2.45 billion in venture funding before being acquired by Walmart in 2018.

Ola Cabs: Founded in 2010, this popular ride sharing app was last valued at $10 billion dollars. In February 2020, Ola launched in London to compete with Uber.
Paytm Wallet: Also founded in 2010, Paytm rocketed onto the scene following Prime Minster Modi's order to demonetize India's currency. The digital payment app claims to have over 350 million users as of 2019.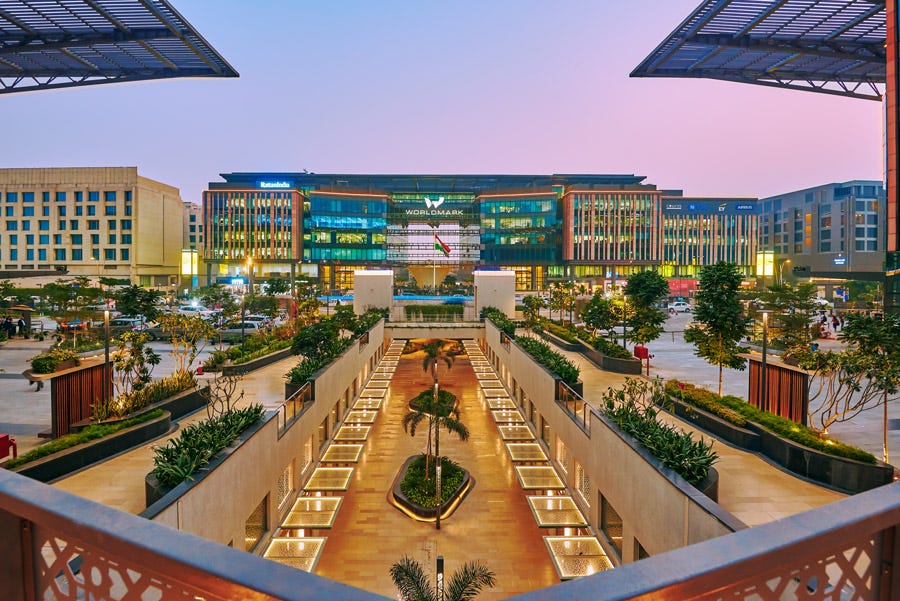 Aerocity, New Delhi
Despite its immaculate progress in tackling poverty, India's economy still ails from poor infrastructure and high income inequality. In 2016, Prime Minister Modi undertook a radical approach to tackling India's inequality through demonetization. The government believed there was too much activity occurring in the shadow economy which negatively impacted tax revenue. Modi believed that by devaluing the currency and introducing a new one, businesses would be forced to legitimize their enterprise, exchange their cash and ultimately pay taxes. As a matter of fact, in 2019 only 3.5 million people in India paid income tax higher than 1.5 lakh rupees or a little less than $2,000 USD. Consequentially, India's Real GDP-to-Debt per capita has lingered above 100% since 2005. In order for India to take the next leap forward as a developed nation, there will need to be a unified effort towards recognizing the utility of a strong infrastructure to buttress their gigantic economy.
Gold Medals: Cricket is the most popular sport in India. When was the last time they won a world cup? Who did they beat? Answer at the bottom.
---
What I'm Reading/Watching:
Watching (movie): The Gentleman: Great McConaughey flick about an American ex-pat drug lord looking to sell his business. You've never seen Hugh Grant in a role like this.
Reading (book): Last Man Standing: The Ascent of Jamie Dimon and JP Morgan Chase by Duff McDonald. McDonald walks us through JPM's success and how it shot to the forefront of the banking industry during the '08 crisis.
---
Meme of the Week:

---
Trivia Answers
Alphabet Soup: MINT: Mexico, Indonesia, Nigeria, Turkey ; CIVETS: Colombia, Indonesia, Vietnam, Egypt, Turkey, and South Africa.
No Meat On Fridays: As per Sharia Law, charging interest on loans (known as riba) is a prohibited practice. Instead, Islamic institutions seeking capital issue securities called sukuks. Sukuks serve a very similar function to debt, although sukuks actually represent ownership of a tangible asset.
Red Tape: In 2019, the city of Dhaka placed a very controversial ban on rickshaws to alleviate traffic congestion. It is estimated that the city of Dhaka is home to over one-million rickshaws.
Gold Medals: 2011 was the last time India won the Cricket World Cup. They beat Sri Lanka by 6 wickets and 10 balls remaining. Please don't ask me what that means.
---
Next week: Middle East